Highline Range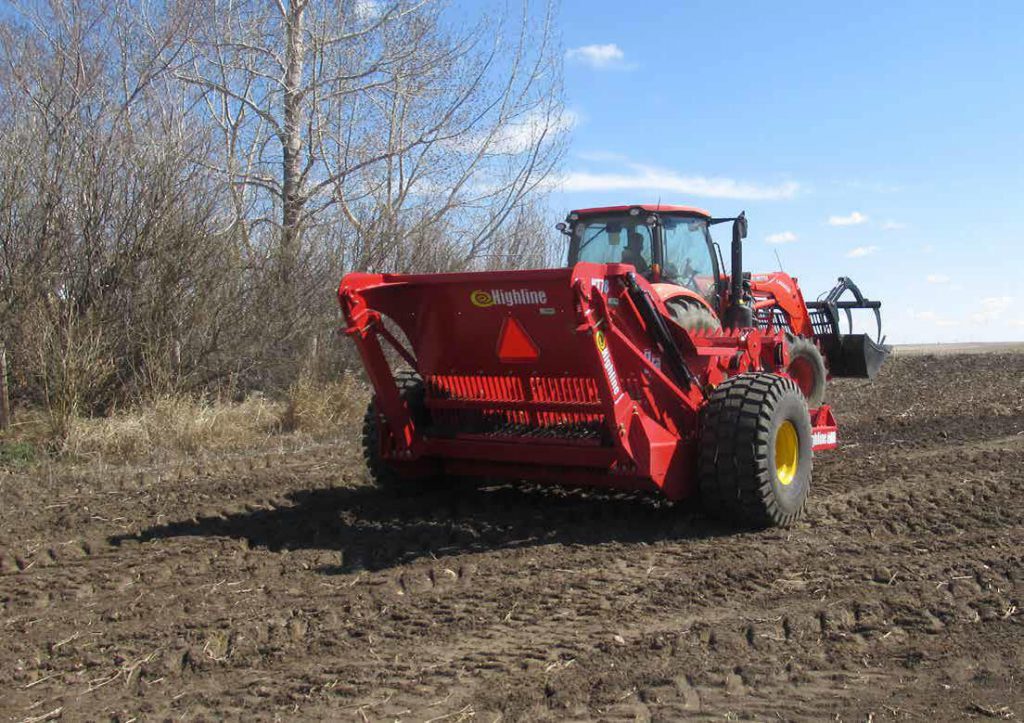 Just Hook Up and Go.
Highline Manufacturing has been producing the Highline Rock Pickers for over 20 years.
The Highline Rock Pickers come in 60" & 78" models.
Unique Guilded Reel that delivers the rocks to the centre of the bucket.
84" standard dump height in all models.
Redesigned hitch that allows tractors with duel tyres or 3m tracking to be used.
NT60 Rock Picker
60" (1.52m) Picking width
121 ¾" (3.09M) Transport width
84" (2.13m) Dumping height
3.04t Weight
1.97m3 Bucket capacity
70HP Minimum Horse Power Required
2" (50mm) Minimum rock diameter
24" (610mm) Maximum rock diameter
3 Hydraulic outlets
68 Litres per minute Required oil flow
Replaceable tynes
NT78 Rock Picker
78" (1.98m) Picking width
144 7/8" (3.09M) Transport width
84" (2.13m) Dumping height
3.42t Weight
2.56m3 Bucket capacity
90HP Minimum Horse Power Required
2" (50mm) Minimum rock diameter
24" (610mm) Maximum rock diameter
3 Hydraulic outlets
68 Litres per minute Required oil flow
Replaceable tynes
S Houle RM-8090 Series (The Rock Monster)
The new release S Houle RM-8090 Rock Monster
Picker Width 80" (2.03m)
Working Width 177" (4.50m)
Dumping Height 90" (2.29m)
Bucket Capacity126.77ft3 (3.59m3)
Number of Bats 3
Minimum Rock Diameter 2" (5.08cm)
Maximum Rock Diameter 24" (61cm)
Hydraulic Outlets 3 minimum
Required Oil Flow 72-98lt per minute
Minimum Horse Power required 100 HP